1962 Chevrolet Passenger Car Shop Manual Supplement
From ClassyChevUSA.com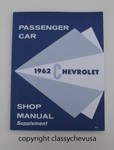 This manual measures 8.5" x 11" x 1/2". It has 288 pages chocked full of photos, diagrams and information. The information in this Shop Manual Supplement covers a brief description of construction, and thorough data on operation, care, specifications, and overhaul of the various units of the 1962 Chevrolet Passenger Cars.This is an authorized by GM reproduction of the original manual. Following is the Section Index from the Manual.
SECTION INDEX
0 General Information Lubrication
1 Body
2 Frame Shock Absorbers
3 Front Suspension, Front Axle, Front Springs
4 Rear Axle, Universal Joints, Rear Springs
5 Brakes
6 Engine, Fuel System, Cooling System, Clutch
7 Transmission, Vacuum Gearshift
8 Fuel Tanks, Exhaust System
9 Steering Gear
10 Wheels and Tires
11 Chassis Sheet Metal
12 Electrical System
Classy Chev USA. We did some searching to find what we believe is the very best in reproduction automotive literature. The manufacture we represent only sells high quality Welcome to the automotive Literature and Manuals division of reproductions. They are offset printed, not photo copied and they are clear and easy to read. We package each piece in sealed plastic wrap & package it in a bend proof envelope to make sure it gets to YOU in first class condition. We do not inflate the shipping on the items and offer Media Mail (6-20 days), First Class Mail (under 13 ounces) (2-6 days) & Priority Mail (1-3 days) in the USA. International orders ship First Class International Mail (6-25 days). We are more than happy to combine by weight your multiple purchases with other literature OR other car & truck parts. Our literature department sells ALL make of literature as we have access to over 40,000 pieces, many of which we inventory. We also sell some original pieces and they will ALWAYS be marked clearly ORIGINAL. If you do not see it listed in our store, please ask and we will do our best to supply it to you.