1941-1948 Chevrolet Red BLUE DOT Tail Light Assemblies - PAIR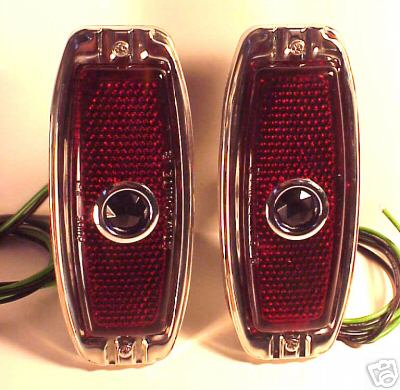 1941-1948 Chevrolet Red BLUE DOT Tail Light Assemblies - PAIR
This is a nice new pair of reproduction RED Chevy tail light assemblies with the BLUE DOT inserts for the popular 1941 42 43 44 45 46 47 48 Chevy cars. They will fit 1941 - 48 Chevrolet cars.
Some of the models this will fit include: Aero, Stylemaster, Fleetmaster, Fleetline, Sportmaster, Master 85, Master De Luxe.
These are made of RED glass with the guide and stimsonite script abd the blue jeweled GLASS dots with the chrome bezels. These come with the housing, stainless steel bezel, bulb, gasket and pigtail wire leads.......nice! One left and one right. The aproximate size of each is 5 7/8" by 2 3/8"