Bullet License Plate Bolts - Chrome - 4 Pieces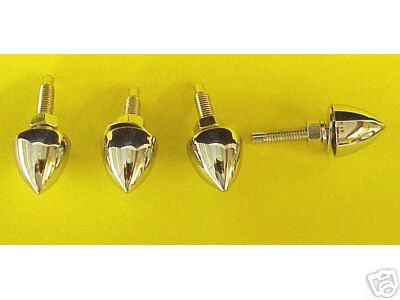 Bullet License Plate Bolts - Chrome - 4 Pieces
WOW! Here is a NEW set of four chromed steel bullet head bolts for your hot rod or classic. Nice detail and quality. Threads are 1/4-20 SAE American threads. In this auction your will get:
4ea Chrome plated die cast steel bullet heads
4ea Chrome plated all thread studs
4ea Chrome flat washers
4ea Chrome plated nuts
4ea Chrome plated split lock washers
These can be used for attaching license plates & frames, filling holes on Rat Rods, building custom bullet grills....or let your imagination go wild!