7" Chrome Heavy Duty Visors for Sealed Beam Headlights - PAIR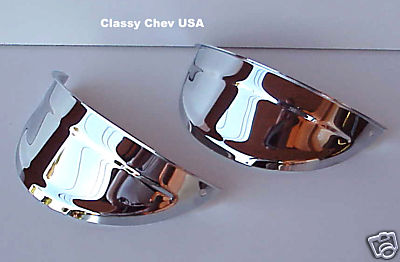 Here we have a nice new pair of Chrome steel headlight visors. These are very high quality reproduction visors that will really dress up that KooL ride of yours. They fit the 7" larger single headlights. These do not have the sharp edges.....Quality...these are heavy! They stick out 2 5/8". Need these with Blue or red dots?....I have those in my store also.

These are attached by installing them under the sealed beam retaining rim....very easy to install!
These are some of the models and years that these should fit:
Buick
1940 1941 1942 1946 1947 1948 1949 1950 1951 1952 1953 1954
- Special, Super, Century, Roadmaster, Limited, Estate Wagon, Riviera, Skylark
Cadillac
1940 1941 1942 1946 1947 1948 1949 1950 1951 1952 1953 1954
- 60 Series, 60 Special, Fleetwood 75
Chevrolet
1940 1941 1942 1943 1944 1945 1946 1947 1948 1949 1950 1951 1952 1953 1954
– Master 85, Master DeLuxe, Stylemaster, Fleetmaster, Fleetline, Special, Deluxe, Bel Air, Sedan, Handyman, Delray
DeSoto
1940 1941 1942 1943 1944 1945 1946 1947 1948 1949 1950 1951 1952 1953 1954
Custom, DeLuxe, Sportsman, Firedome, S-11, Powermaster, Powerflite, Coronado

Dodge
1940 1941 1942 1946 1947 1948 1949 1950 1951 1952 1953 1954
- Special, Deluxe, Custom, Wayfarer, Meadowbrook, Coronet, Diplomat, Royal
Plymouth
1940 1941 1942 1946 1947 1948 1949 1950 1951 1952 1953 1954
-Road King, DeLuxe, Special DeLuxe, Club Coupe, Concord, Suburban, Cambridge, Cranbrook, Belvedere, Savoy, Plaza
Pontiac
1940 1941 1942 1946 1947 1948 1949 1950 1951 1952 1953 1954
-Special, Deluxe, Torpedo, Streamliner, Custom, Metropolitan, Chieftan, Parisienne
Convertible, Sedan, Coupe, Station Wagon, Woody, Hard Top, Town Car