Stainless Steel Half Moon Headlight Covers 5 3/4" - Set of 4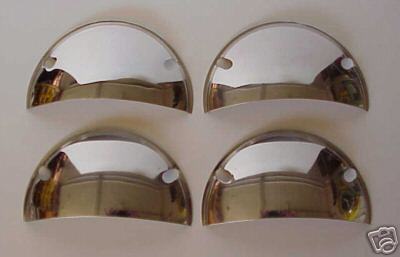 Stainless Steel Half Moon Headlight Covers 5 3/4" - Set of 4
Here we have a set of 4 polished stainless steel half moon headlight covers.
They are for the cars with dual headlights 5 3/4". These would be a great detail addition to your rat hot rod or fit any of the cars listed below that have 4 headlights:
Desoto, Corvair, Comet, Chrysler, Chevrolet, Chevy, Cadillac, Buick, Dodge, Edsel, Ford, Lincoln, Mercury, Oldsmobile, Packard, Plymouth, Pontiac, Rambler, Studebaker, Thunderbird, and Valiant for the years 1958- 1970.