1949-64 Chevrolet Car or Truck Door Handle Clear Escutcheons - 2P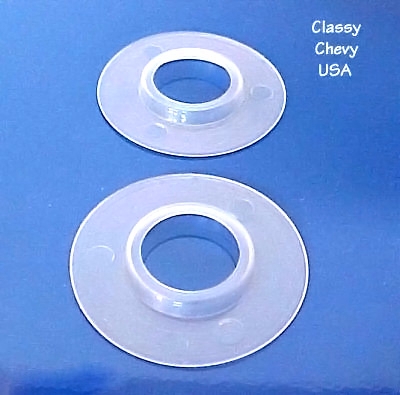 Here we have a nice new set of window crank and door handle escutcheons for the 1949 1950 1951 1952 1953 1954 1955 1956 1957 (1958 - Biscayne only) 1959 1960 1961 1962 1963 1964 Chevrolet CARS. These also fit Chevrolet Trucks 1947 - 1972. These are made of CLEAR plastic from new molds and are a nice way to finish off the handles when replacing. The CLEAR escutcheons have the advantage of not showing up behind the handles.
These escutcheons will fit and are correct for the following models of Chevrolet Cars: Fleetline, Styleline Deluxe and Styleline Special, Bel Air, Handyman, Convertible, Townsman, 150 Series, 210 Series, Impala, Nomad, Hardtop, Station Wagon, Beauville, 2 and 4 Door Hardtops and Sedan, Brookwood, Biscayne, Yeoman, Kingswood, &
Sport Coupe.