Pilot Dash Indicator Light - BLUE - 1 PC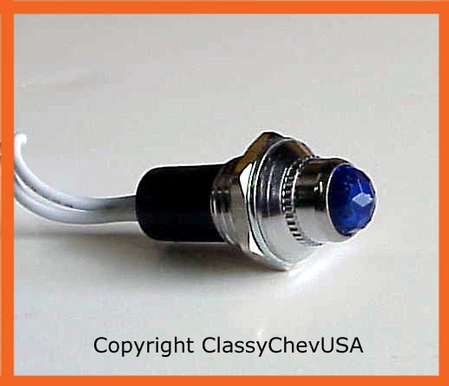 Pilot Dash Indicator Light - BLUE - 1 PC
Dash indicator light with BLUE lens. The quality of these is superb. These are very versatile and can be used for turn signal indicators, indicators for toggle switches or what ever you can imagine. You will like their compact size and method of positive attachment.
Here are the dimensions:
The diameter of the colored face is .275"
The maximum panel depth is .180"
The maximum hole size to drill for this is .450" ......min size is .425"
The collar diameter is .530"
Length from front of face to wire flexibility is 1.18"
These are 12 volt and come with two wires.
These provide a clean and professional look.
I stock these in RED, AMBER,GREEN, and BLUE.