1937-39 CONVEX 4" PEEP mirrors Stainless Chevy Ford Pair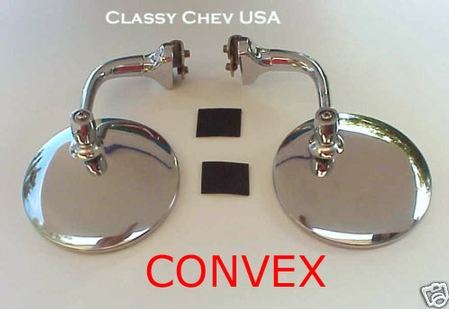 Up for sale is a very well made and high quality NEW set of two CONVEX 4" outside rear view mirrors. Both of these mirrors have the convex lenses. This allows the driver to have a much wider view of the items and vehicles behind them.
The heads are made of stainless steel and the arms of chrome steel for those Hot Rods and older classic cars and trucks.These fit well on Chevrolet, Ford, Hudson, Cadillac, Pontiac Oldsmobile, Nash, Packard, Studebaker, Graham, GMC Trucks, Dodge, Chrysler and may more makes. The fit best on years 1935 1936 1937 1938 1939 1940 1941 1942 1945 1946 1947 1948 1949 1950 1951 1952 1953 1954 1955 1956 1957 1958 1959 1960...but will also work on other years as long as you have room to clamp them on the door edge. The mirrors with fit either side of the vehicle by just unscrewing the head and repositioning it to the other side of the arm...a two minute job. They clamp onto the door edge and come with a rubber insert to protect your paint when clamping. Quality.